Logroño is the capital city of La Rioja, the smallest of Spain's seventeen autonomous communities. The city is in the north of Spain, bordering the Basque Country, and sits on the shoreline of the second longest river in Spain, the Rio Ebro. Logroño is known for many things including the elaboration of wine, the tapa culture, and being a stopover on the famous pilgrimage route, the Camino de Santiago.
Perhaps a small city but Logroño is booming with life and culture. The city is a must if you're visiting the north of Spain as the wine and the tapas are (arguably) unbeatable. Even if in Logroño for a short time the city can be thoroughly enjoyed. The number one thing to do is visit Calle del Laurel. A windy street in the old part of the city, Calle del Laurel is chock-a-block with one tapas bar after the other. The following is not only a list of the street's top tapas but a step-by-step guide on how to enjoy an evening on the bustling street.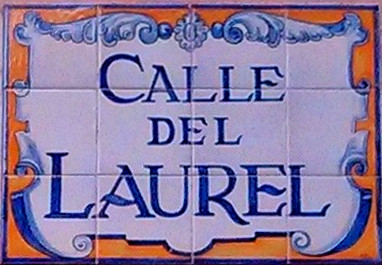 First things first, a few key things to know about Calle del Laurel;
Although the tradition of tapas is for a free appetiser or snack to be served free with your drink, that is not the case in Logroño. The delicious tapas you get on Calle del Laurel are served and paid for separately from your drink. Not to worry, the tapas and wine are quite cheap!
The word for tapa in La Rioja, and all of northern Spain, is pintxo or pincho. Pintxo is a Basque word but it means spike in Spanish, referring to the usual toothpick that keeps it together.
Interesting fact: Laurel means bay leaf which is appropriately part of the Calle Laurel Association's logo.
The way to do Calle del Laurel is somewhat of a bar crawl. Each bar/restaurant on the street specialises in a particular tapa and so you've got to move around to try it all.
The tradition of paying after you eat is alive and well in Logroño, however some bars have begun to ask you to pay once you order. Also, if the bar is packed, which is almost always the case on Calle del Laurel, it's sometimes easier just to get the bill out of the way so you don't have to tackle the crowd again.
Yes, Calle del Laurel is just one street but for the purpose of this article it also refers to the various neighbouring streets.

Calle del Laurel is a great option for a bachelor/bachelorette party! Delicious food + great prices + awesome night-life = Perfect location for a hen do! Just beware, some spots don't allow bachelor/bachelorette parties entrance.

The opening hours of the bars/restaurants tend to vary but they're often open around lunch time (13-16) and again around dinner time (19-24).
It is recommended to order a tinto (glass of red wine) at each and every bar (white wine isn't at all popular in La Rioja). The caña (small glass of beer) isn't a bad choice but the La Rioja wine is to die for! When you order 'un vaso de vino tinto' (a glass of red wine) the bartender will often ask you if you'd like joven or crianza. Joven is rather self-explanatory as it translates to 'young' and crianza is a step up in terms of the wine's age, having spent 1 year in the bottle, and will be slightly more expensive than the joven. A glass of red can range from €1.50 to €3 depending on the age, €3 being on the pricey side. Although, if you're an oenophile, one who is into fine wines, and not concerned about your travel budget ask if they've got reserva (2 years in bottle) or gran reserva (3 years in bottle) behind the bar.
If you're looking for somewhat of a lighter option to drink then try a mosto. It's a sort of grape juice, wine before the ageing process, i.e. sin alcohol (without alcohol). Mosto is usually served with an orange slice and/or an olive. It's light and refreshing, a great option if you want a break from the wine.
Another part of the culture on Calle del Laurel is that rubbish is thrown onto the floor. Each bar/restaurant has the same type of thin napkins, those and any toothpicks or the like don't get thrown into a rubbish bin, the restaurant just accumulates the rubbish on the floor throughout the night and sweeps it up at closing time. Try it out – it's refreshing!
Most of the bars/restaurants don't have seating and even if they do, they fill up fast. This isn't a big deal since you'll move on to the next spot in no time. Often, the bars will have barriles (wine barrels) set outside their doors. Grab your tapa, your glass of wine and stand around a barril to enjoy it!
Not all places have bathrooms but those that do almost never have toilette paper, so either come prepared with TP in your purse or grab some napkins our your way to the loo.
The perfect evening in Logroño;
~8pm: Start at the Concatedral de Santa María de la Redonda on Calle Portales. (No tapas here but this cathedral is gorgeous and definitely worth a look, especially at night-time when the façade is all lit up.)

Take the required selfie in front of its impressive twin towers and continue heading west on Calle Portales.
Turn left onto Calle Capitán Gallarza.
Turn right onto Calle del Laurel. You've arrived!
#1: Juan y Pinchamé

Simple and yet delicious, the speciality at Juan y Pinchamé is piña y langostino, a brochette of pineapple and shrimp. The combination is ridiculously tasty. The tapa is served with a slice of bread. Pro tip: Use the bread to shimmy the pineapple and shrimp along the brochette!
Address: Calle Laurel, 9
#2: Bar Donosti

Just a few doors down on the same side of the street is Bar Donosti. This bar is known for its 'tostas' which are small pieces of toast. The best one is topped with a thick round of queso de cabra (goat's cheese), mermelada de melocotón (peach jam), and nueces (walnuts). You can also choose from a mermelada de manzana (apple jam) or tomato topping over the goat's cheese. Another of their specialities is the boletus con jamón, it's another tosta but topped with jamón serrano (Spanish ham) and boletus, a type of mushroom. All their tostas are heated up before being served, it gets sticky but totally worth it!
Note: There are also gluten free options!
Address: Calle Laurel, 13
#3: Soriano

Keep heading down Calle del Laurel and take a right onto Travesía del Laurel, appropriately named, the crossing of Laurel. A few bars down on the right you'll see a crowd of people outside a small bar called Soriano. This spot is probably the  most popular and so it's always packed. Don't be shy, head on in and try to make eye contact with one of the bar tenders. Their speciality, and the only food you can order here, is a pincho de champiñón (mushroom). It's a tapa that consists of three mushrooms stacked on top of a piece of baguette and topped with a small shrimp. Pro tip: Be careful, it's super hot! The trick to eating it (after waiting till it cools down a bit) is to push the toothpick down through the stacked mushrooms, one at a time, pulling the toothpick out through the bottom as you go. Order your tapa and wine and stand out by one of the bar's barriles.
Address: Travesía del Laurel, 2
#4: Blanco y Negro
Backtrack a bit and head to Blanco y Negro. Initially skipped this gem to mix it up before revisiting the culinary delight that is goat's cheese. Blanco y Negro is on Travesía del Laurel but just at the end of Calle del Laurel. This place has many tapas to choose from but their best one is the queso de cabra, con jamón y mermelada de frambuesa. This is a chunk of baguette spread with goat's cheese and topped with jamón serrano, Spanish ham, and raspberry jam. It's absolutely delicious and goes perfectly with a glass of Rioja.
Address: Travesía del Laurel, 1
#5: Tío Agus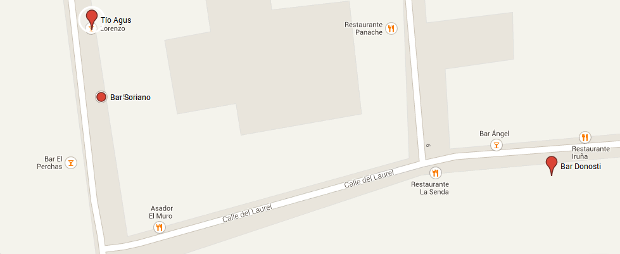 Head back toward Bar Soriano and continue along Travesía del Laurel until you get to Tío Agus on the right hand side of the street. Tío Agus' speciality is the pincho moruno, it's marinated and grilled pork, either in a bun with a special green sauce or on a brochette. The green sauce is some sort of pesto and it's delicious! The prices are also unbeatable, pinchos go for €1.50. Pro tip: The brochette is served with a slice of baguette on the end, it's useful for pulling the pieces of meat along the stick! Also, this place seems to have two names, Tío Agus and Bar Lorenzo, no idea why!
Address: Travesía del Laurel, 4
#6: La Casita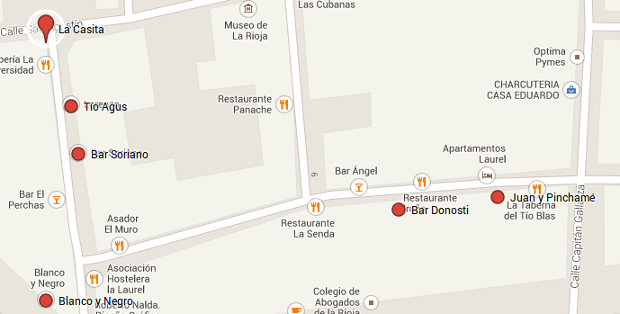 Next stop isn't for food but for drink. Let yourself digest and take a break from the Rioja wine at Bar La Casita. The bartenders here make a killer sorbete de limón, a lemony slush-esq drink made with cava, a Spanish sparkling wine similar to champagne. You can either get a small glass or go for a pitcher if you're with friends. If you're still hungry their tapas involve some delicious looking jamón serrano.
Address: Travesía del Laurel, 13
#7: El mexicano
Once you think you've had enough food head on over to El Mexicano. As the name suggests, it's a Mexican style bar, complete with walls adorned with skeletons, a ton of different types of tequila, and they do a tasty margarita. If you're feeling especially adventurous go for Mezcal tequila, the brand that has a worm soaking it up inside the bottle. El Mexicano doesn't only do drinks, take a look at their menu of tacos, they're delicious, especially when topped with one of the three spicy sauces they keep on the bar. Pro tip: Careful, be sure to ask the bartender which is which of the sauces. Also, although wine and beer is consumed at all hours, it isn't really customary in Spain to drink hard alcohol until after midnight.
Address: Calle San Agustín, 4
#8: Los Rotos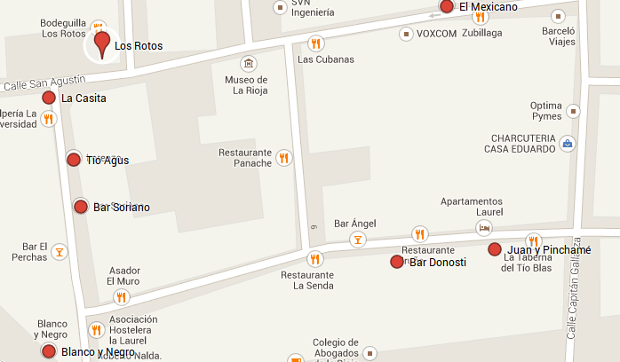 This next spot is a good option for a late night snack or even to nurse that hangover the next day. Los Rotos, literally translated to 'the brokens,' specialises in huevos rotos, or 'broken eggs,' essentially scrambled eggs with some other delicious ingredients mixed in. At Los Rotos you can choose from chistorra, which is similar to chorizo; gulas, baby eels; bacalao, cod fish; setas, mushrooms; morcilla, blood sausage; roquefort; pimientos, peppers; or pechugas de pollo al ajo, garlic chicken breast. The best one is chistorra and the special thing about the huevos rotos at Los Rotos is that they're served in a bread bun.
Address: Calle San Agustín, 8
Here is a map of the entire route!
If you've got more time and a hankering to try out some more tapas then definitely check out the official website for a list of all the bars and their specialities.
The following two tabs change content below.
Hi, I'm Hannah, a London-based copywriter and blogger. I am a Canadian ex-pat whose interests range from food and travel, to ultimate frisbee, and sailing. As an avid traveller, food enthusiast, and sports-person I seek to write cutting-edge articles about athletes and sporting events, as well as travel destinations, tips, and culinary havens. If you like my writing and want to get in touch about freelance work or other job opportunities, don't hesitate to
contact me
!