Twins are born together and raised together. Throughout their lives they're playmates, roommates and they very often pick up the same sport. Fellow athletes and identical twins, Saskia and Imogen Sills did just that. Not only identical in looks, these two young ladies also boast similar talent on the water, windsurfing.
Saskia, the older of the two by 30 minutes and Imogen were born 18 years ago in Plymouth, UK. A common point of contention between twins but that isn't the case for Saskia and Imogen, "We are incredibly close, she's my best friend," said Saskia. The twins are competitive windsurfers and are part of the Royal Yachting Association (RYA) British Sailing Team.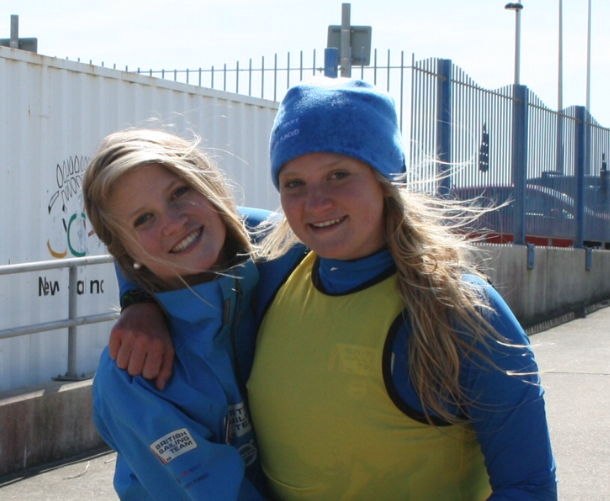 Born into a family of sailors, it was thanks to their older brother Sam, also a competitive windsurfer on the British Sailing Team, that the two girls got into windsurfing at a young age. The girls began windsurfing at the same time but Saskia was more inclined to the sport at the beginning, "Imogen saw a big fish in the lake we sailed in and got scared and didn't sail for a year." Saskia joked it may have been a similar situation for her had she seen the fish. Imogen's initial fear didn't last long as both young athletes have barely left the water since.
The two began their foray into windsurfing through the T15 programme, a national windsurfing development initiative that gets kinds under the age of 15 to pick up the water sport. The programme encourages young sailors to get into competition by holding friendly races, "The races were only one day and you get to see all your friends, it was purely for fun, just on your board racing for sweets after a countdown of 3,2,1," Saskia explained, "It definitely made it fun to want to carry on."
The twins began competing in 2005 and have had amazing results in national, European events and international events. Saskia is a triple world champion, she won the Under-15 World Championships at 13 years old, the Under-17 World Championships at age 15, and after moving up to the RS:X, the Olympic windsurfing class, she won the 2012 Youth Sailing World Championship. Imogen is the 2013 EUROSAF Youth European Champion and shared the podium with her sister, winning the bronze at the Under-17 World Championships. Imogen is the current UK national champion.
More recently, Saskia hit a bit of a road block in her windsurfing career when she was diagnosed with coeliac disease this past Christmas, "I've probably had it for a few years, so while I was training last year I wasn't seeing any improvement and every big training block I got ill, I wasn't recovering properly." Being a coeliac athlete is another thing the 18 year-old twins have in common as Imogen was diagnosed with the disease at the age of 3. Growing up together meant that Saskia followed her sister's gluten free diet and so doctors suspect this is why Saskia went on so long undiagnosed.
As a result, Saskia's results suffered last season, "It was a bit of a kick in the teeth really that I had worked so unbelievably hard and everyone thought I hadn't been working as hard because my performance had dropped but we now know that I wasn't recovering properly." In order to give her body a break Saskia hasn't trained since last January, "Doctors suggested that I stop training and windsurfing until I'm fully recovered and my iron levels increase and my body gets to where it should be."
Saskia has just begun what she calls a "return to sailing programme," through which she'll progress into full training, "[…] half an hour here and there until I get back to the right fitness level to be able to train properly." Sadly, the 18 year old is missing out on the last youth-level events in which she could have participated, "I've never actually won a [Youth] Europeans before and so before I knew I was ill last year I thought, ok, I'll draw a line after all the rubbish competitions I've done this year and just focus on trying to do well next year and win the [Youth] Europeans." A gutting realisation for this young athlete, Saskia remains headstrong, "[Winning Youth Europeans] was one of my goals this year, which is particularly hard to get my head around but I can't control it so there's no point in getting down about it." A stoic response to say the least, Saskia is being realistic about her return to the sport, "I won't be able to immediately get back on the board and be amazing straight away." Even after these hardships it's safe to say Saskia has not lost her fondness for the sport, "I love it, I just love competing, the strategic side of the racing and the speed, I love normal sailing too but I really love racing."
Imogen on the other hand, is running full steam ahead after winning the 2014 RYA Youth National Championships in April and qualifying for the International Sailing Federation (ISAF) Youth World Sailing Championships. "She's doing really well," reported Saskia, "She's beating a lot of the boys so that's a good indicator." Next week, Imogen will be travelling to Turkey to compete in the Youth European Windsurfing Championships and will later travel to Portugal for the ISAF Youth World Sailing Championships. According to Saskia her sister has come a long way, "I think my sister has changed the way she sails, she has become a lot more go-out-and-get-it." Saskia will be supporting her sister from afar as accreditation is a must to enter the venue, "we'll be texting every day, and I'll be on the end of the phone."
Albeit side-lined for the moment, Saskia has big plans for her return to windsurfing. Although Saskia wants to keep those plans hush-hush, her intention is to be competing once again by September, "I'm aiming for it," claimed Saskia.
Saskia's plans don't stop there, "The 2016 Olympics are completely out of the question, but the 2020 Olympics are more realistic," said Saskia, who has no illusions about the competition she'll face, "Including my sister, there are three girls in front of me. We have quite a strong girl's fleet in the UK." According to Saskia, Imogen has the same Olympic dreams. This will prove to be an interesting dilemma for the twin sisters as Britain can only take one boy and one girl to the Games. When asked whether that will one day pose a problem Saskia's response was rather pragmatic, "It will be tough, but you can never say that we'll even be in a position of being able to qualify, even if we're in that position it will be a massive achievement."
Twins competing against each other at the international level is unique; one would think it could be an extremely competitive and unhealthy situation. In Saskia and Imogen's case, that couldn't be farther from the truth. Despite competing in the same class and in the same events the two harbour no competitive feelings toward each other, "We don't see it as competing against each other." Their bond is seemingly unwavering and appears to give the two an edge, "We're both really supportive of each other," Saskia explained, " If anyone was going to win out of the whole fleet we'd prefer it to be one or the other, I think it does drive us to do better, which is an advantage." Training partners to the core, the duo enjoy working together, "In between races we will [discuss strategy], we do our tuning runs and we'll discuss options of where to go and what to do."
Saskia doesn't only have windsurfing on her mind as she just recently completed her A-levels. When asked how she juggles her windsurfing endeavour with her academic life she admits it's tough but rather enjoys the busy schedule, "When I was windsurfing I did find it difficult but because you've got so little time you've got to be really productive with your time." An accomplished young lady, Saskia has an unconditional offer at Bournemouth University to study geography. Windsurfing, however, is not forgotten, "I've applied and I got offers from the University of Portsmouth, the University of Bath, and the University of West England but Bournemouth is close to the sea; it just suits my personality." Imogen is on a similar path as she just completed her A-levels and is keen on studying philosophy. With two different areas of study the girls are looking at separate university experiences, "We won't be going to the same university; I don't know how we'll cope."
Saskia and Imogen will continue to train near to home at Roadford Lake in Devon, UK, and with the British Sailing Team in Weymouth, UK. Follow their progress on their Twitter accounts, Saskia and Imogen.
Note: This article was written for Exclusive Sports Media.
The following two tabs change content below.
Hi, I'm Hannah, a London-based copywriter and blogger. I am a Canadian ex-pat whose interests range from food and travel, to ultimate frisbee, and sailing. As an avid traveller, food enthusiast, and sports-person I seek to write cutting-edge articles about athletes and sporting events, as well as travel destinations, tips, and culinary havens. If you like my writing and want to get in touch about freelance work or other job opportunities, don't hesitate to
contact me
!